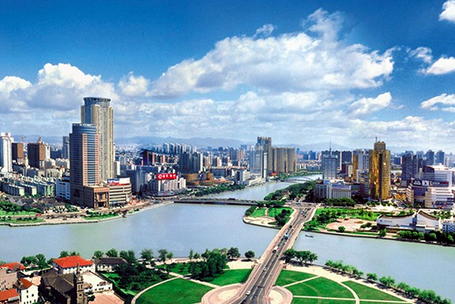 航都(厦门)国际货运代理有限公司宁波分公司简介
Air-City (Xiamen) Freight International Company Limited / NingBo Branch
Introduction:
    宁波航都秉承"诚信,专业,开拓,双赢"的经营理念,一直致力于为广大国内外客户提供优质的,全方位的物流服务. 公司充分挖掘自身地区优势,密切与海外代理合作,积极拓展公司业务。
   Under the philosophy of 'integrity, professional, explorative, mutual-beneficial', Air-City (Xiamen) Freight International Company Limited / Ningbo Branch offers top quality and comprehensive logistics service to the customers.  Strategically locates at the YRD region, the generator of the world economy, Air-City / Ningbo explores the world by close managing the world-wide network including our own branches as well as overseas partnering agents.
    海运:公司在立足 美国、东南亚的基础上,又以欧洲、地中海、非洲、中南美等远洋航线作为自己的特色航线。同时在标准集装箱、开顶箱、框架箱、滚装、散货运输等方面均积累了相当多的宝贵经验,目前与NYK\CMA\MSC\MATSON\COSCO\Hapag Lloyd\Hanjin、瑞克麦斯Rickmers、中波船公司 Chipolpek等各大船公司均有着密切合作关系.
    Sea freight: On the solid base of North American and Asian routes, we spread out to the European, Mediterranean, African, Latin & South American regions.  Air-City / Ningbo has extensive experience to all kinds of standard and special containers, RO/RO, shipment in bulk.  We have been well collaborating with various carriers, to name a few: NYK / CMA / MSC / MATSON / COSCO / Hapag Lloyd / Hanjin / Richmers / Chipolpek.
    空运: 公司发展初期便是以空运见长,此后更是与各大航空公司保持二十几年的良好的合作关系,在仓位、价格上都有明显优势。公司在普货以及特殊货物磁钢空运运输上具有丰富的实践经验,可以为客户提供不同航空公司最新的价格,准确拿捏市场动态,目前优势航线有美洲、亚洲、欧洲等,合作的航空公司有:MU、QF、CZ、RU、KE、KA、LH、KZ、CX等。
    Air freight: Originated from air freight, Air-City / Ningbo has been close collaborating with the major carriers for 20 years, we can well manage cargo space, offer very competitive rates to cope with the fast changing market.  Air-City / Ningbo is particularly strong on American, Asian and European routes, well supported but not limited to MU / QF/ CZ / RU / KE / KA / LH / KZ / CX etc.
    跨境电商:提供专业的报关、物流服务
Cross border e-commerce logistics: To cope with the rapid growth of e-commerce business, on the base of international freight forwarding, Air-City / Ningbo extends the arm to the cross border e-commerce logistics, offer comprehensive logistics solutions.
联系我们
Please feel free to contact us at:
航都(厦门)国际货运代理有限公司宁波分公司
浙江省宁波市苍松路299弄22号柳汀星座414室
邮编:315010
电话:(0574)87163990
传真:(0574)87163988
AIR-CITY(XIAMEN)FREIGHT INT'L CO.,LTD NINGBO BRANCH
RM 414,NO.22,LANE 299 CANGSONG ROAD,NINGBO,CHINA
PC: 315010
TEL: (0574)87163990
FAX: (0574)87163988 
空运询价及操作部
陈琴 小姐
电话:0574-87163987
E-MAIL: This email address is being protected from spambots. You need JavaScript enabled to view it.
郁晓琴 小姐
电话:0574-87139702
E-MAIL: This email address is being protected from spambots. You need JavaScript enabled to view it.
Air Freight & Operation Department
Ms. Shelley
TEL: 0574-87163987
E-MAIL: This email address is being protected from spambots. You need JavaScript enabled to view it.
Ms. Terri
TEL: 0574-87139702
E-MAIL: This email address is being protected from spambots. You need JavaScript enabled to view it.
海运询价及操作部
姜伟 先生
电话:0574-87163990
E-MAIL: This email address is being protected from spambots. You need JavaScript enabled to view it.
高媛 小姐
电话:0574-87163991
E-MAIL: This email address is being protected from spambots. You need JavaScript enabled to view it.
Ocean Freight & Operation Department
Mr. Jirry
TEL: 0574-87163990
E-MAIL: This email address is being protected from spambots. You need JavaScript enabled to view it.
Miss Wendy
TEL: 0574-87163991
E-MAIL: This email address is being protected from spambots. You need JavaScript enabled to view it.